Home » About MGNS » Staff
---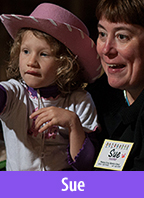 I am so happy to be here at MGNS. After 3 years as a MGNS parent, I am thrilled to be an MGNS teacher and the School Director. Before my two children were born, I taught for several years grades between kindergarten and fourth. Now my kids are all grown up, so I love spending time with the kids here at MGNS. I am also a happy resident of Monona and an active volunteer throughout the city. It is a busy and perfect combination—I am so pleased to be a part of this cooperative community.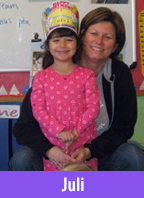 My name is Juli and I am so excited to be here at MGNS! I am married with 2 active boys who are both MGNS alumni. I graduated from Drake University with a degree in Biology. In my free time I enjoy spending time outdoors with my family – camping, hiking, and playing pretty much any sport. I look forward to spending time with each child and helping them grow and learn. We're going to have a great year!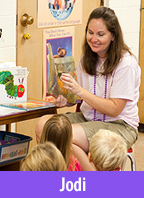 Hello – My name is Jodi and it is my pleasure to be able to continue my teaching career at Monona Grove Nursery School. I have taught preschool for many, many years. In addition I have an Elementary Education degree from the University of Wisconsin – La Crosse, and currently hold a substitute license for the Madison Metropolitan School District. I've also taught first grade in Atlanta and Minneapolis prior to moving back to Madison. I am married to my wonderful husband and we have two amazing kids. I look forward to starting another exciting year teaching at MGNS.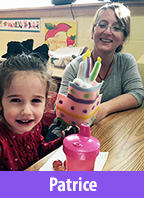 My name is Patrice and I am so happy to be one of the Toddler Time teachers at Monona Grove Nursery School. I received my bachelor's degree in Elementary Education from Northern Illinois University. My husband and I have three lovely daughters who are all MGNS alumni. We loved being part of a parent cooperative because it gave us the opportunity to be in our children's classrooms and allowed us to get to know their teachers and friends. I jumped at the chance to teach at MGNS after my youngest daughter started kindergarten and I feel so lucky to work with such wonderful families!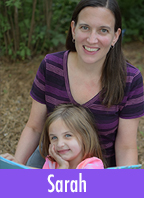 My name is Sarah and I am delighted to be teaching preschool at MGNS! My three children are all alumni and I couldn't be happier to now be working at the school that felt like family to us for all of those years. I have a Master's of Education and previously taught in elementary school for many years until I took some time off to stay home with my children. I love to read, visit art and children's museums, and hike and bike with my family. I am thrilled to be able to be a part of your child's learning journey! Play is so important in so many ways to the whole development of young children and I am excited for how much they will learn and grow this year!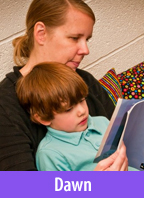 After moving from the west side of Madison to McFarland, we found MGNS for my youngest and in the 3 1/2 years she was here, it became like a family to us. I am so lucky that I got to come back and be a part of this wonderful staff. Working with the kids at MGNS puts a smile on my face every day – we have so much fun playing, cooking and creating masterpieces! I have a degree in Psychology from UW Madison. I am married and have two fabulous and very active daughters who enjoy swimming, soccer and crafting. In my free time I enjoy baking, walking, and I absolutely love to read (I have over 15 years of experience working with books). Please ask me about my favorite children's books!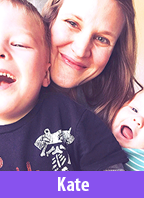 My name is Kate and I am so honored to be a part of the teaching staff at MGNS! My husband and I have two sons who have both attended MGNS and LOVED learning through play in such a welcoming environment. I earned my master's degree in Special Education from UW-Madison. Before staying home with my children, I spent several years teaching children from kindergarten through 5th grade. When I'm not trying to keep up with my husband and sons on outdoor family adventures (biking, hiking, etc…) you can find me reading, painting, gardening, dancing or watching a movie with my family. I am excited to work in partnership with the parents and staff of the MGNS community and to watch the children learn and grow through play. We are going to have a fun year!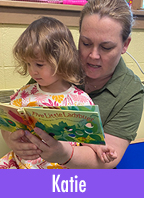 I'm Katie and I'm so pleased to be a Toddler Time teacher at MGNS. I have had many different jobs in my life, but I am most happy when I'm around children. So, I decided to go back to school and pursue a degree in Early Childhood Education. I have two children that are MGNS alumni and are now in middle school and intermediate school in Cottage Grove. I have fond memories of being a parent in Toddler Time with my kids. I was a stay-at-home mom at the time and the friendships I made with the other grown-ups were important to me. I'm excited to witness new friendships blossom this year. MGNS is a special place to be.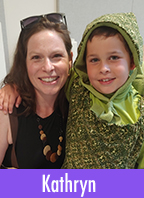 My children LOVED Toddler Time… and now I get to happily attend! I've been involved at MGNS as a parent, board member, and substitute teacher and now a Toddler Time teacher! I earned my bachelor's degree from UW-Madison with a double major in Elementary Ed. & Theatre – great skills to create a fun Toddler Time experience! I live with my husband, Louie, and our three boys, Freddie, Sal, and Georgie who have all enjoyed & benefited from their time at MGNS. We've loved the MGNS community and are happy to continue to be a part of it! In my free time, you'll find me cooking, baking, playing piano & ukulele, running/exercising, organizing community events for our neighborhood association, & trying to improve my Wordle win streak. I look forward to learning through play with you and your little ones!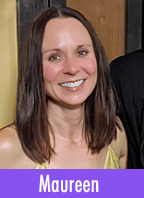 I am excited to be the new Lunch Bunch Coordinator again this year! I absolutely love getting to know the kiddos over a casual lunch together. I have two elementary school age girls who both attended MGNS from Toddler Time through 4K. During that time, I served on our board as Vice President, President and Secretary. We made wonderful friendships that we have continued well beyond our time at MGNS. I have stayed home with my girls since my oldest was a baby and am so glad to have this opportunity to be a part of the MGNS community.